ESCAPE FROM LOCKDOWN
A pandemic breaks out and a global lockdown threatens. At that very moment, you are abroad. The message is to get home before the lockdown sets in. The journey, however, is not easy.
 
Circumventing customs, solving mysteries, cracking codes, getting flight numbers, deciphering enigmas, …. Stay calm and complete the challenges on time, that's all we ask of you… or is it?
 
Just call it virtual, digital teambuilding.
ECO TEAM EVENT
THE CLIMATEGAME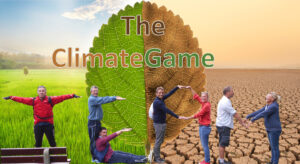 Are you ready to face the climate issues or do you just want to raise the climate awareness of your colleagues? 
 
The digital version of our brand new ClimateGame is the ideal means to achieve your own 'climate goals' during an online team event.
We offer you and your team an extraordinary interactive mix of team learning, fun and team spirit.  
A unique eco-teamevent. 
TRAVEL THE CONTINENTS

In the online teambuilding game 'Travel the Continents' you will set off on a digital world tour and get to know all the continents along the way, and of course your colleagues. The goal of the game is simple … To score as many points as possible during your journey!
Together, as a team, you will make a unique journey around the world. Task after task, challenge after challenge, the teams get closer to the end of their world trip … hopefully with as many points as possible.
PLEASE DON'T
STOP THE MUSIC
In the online teambuilding quiz 'Please don't stop the music', you and your colleagues will be tested on your knowledge of music. And be sure: 'You've got the music in you'.

Are you a specialist of the 60s and 70s, are the eighties and nineties your thing or are you a connoisseur of the nillies? Stroll around the festival meadow and decide with your team members which performances you want to attend. Will it be disco, rock, R&B or will it be techno first? Everything is possible.